Luna in Libra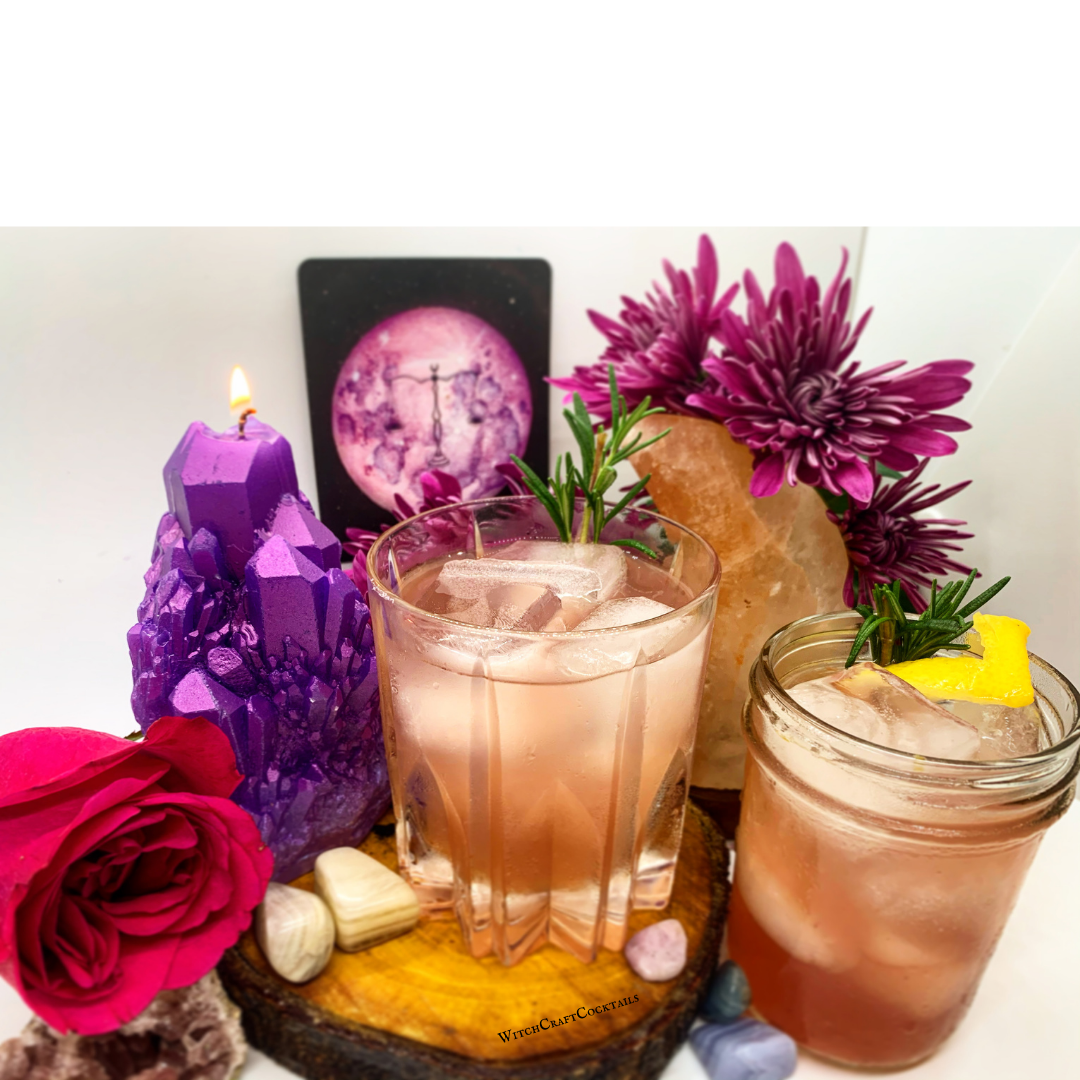 Luna in Libra
Imbibe the luscious, balancing energies of this Libra Moon with this apple brandy, herbal concoction. Seasonal apple flavors takes the center stage in this brandy cocktail, complimented by uplifting orange and balancing grape. Aligned to the Libra New Moon for Love, Longevity, and Wisdom, this Luna in Libra cocktail will have you creating a fresh start of balance under the lunar energies.
For Simple Sipping: Cocktail making can be easy! Just swap ingredients or remove as you see fit. Use the material here & the ingredient reference list towards the bottom to help guide you in your own unique concoction, and get creative in swapping ingredients you may not have.
The Cocktail
Energetic Alignment: Love, Longevity, Fertility, Wisdom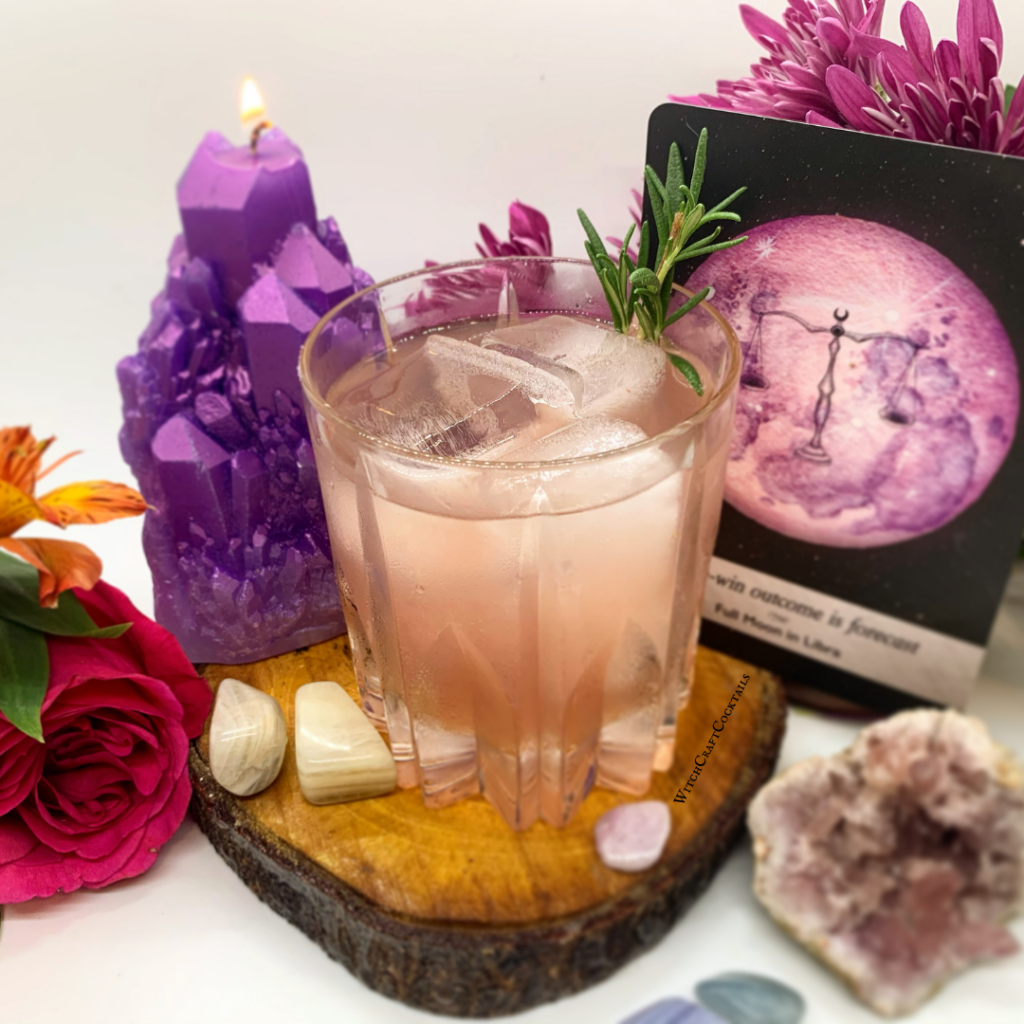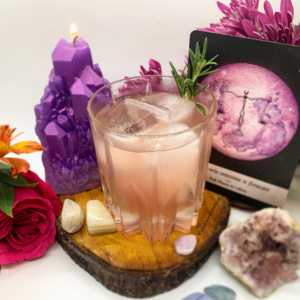 Luna in Libra
Imbibe the luscious, balancing energies of this Libra New Moon with this apple brandy, herbal concoction. Seasonal apple flavors takes the center stage in this brandy cocktail, complimented by uplifting orange and balancing grape. 
Ingredients
1

sprig

rosemary

4

grapes

(I used Moon Drop grapes)

1/2

ounce

New Moon in Libra Simple Syrup

(recipe below)

4

dashes

rosewater

(optonal)

3/4

ounce

fresh lemon juice

1/4

ounce

orange liqueur

(for example, cointreu, gran marnier, triple sec)

1

ounce

apple brandy

(I used EJ Apple brandy. You can also play with mixing in a bit of whiskey or bourbon)

1

ounce

soda water
Instructions
In a cocktail shaker, firmly muddle rosemary and grapes in the syrup and rosewater. As you do so, visualize yourself stamping out imbalance in favor of more balance in your life. Add in lemon, orange liqueur, and apple brandy. Add ice, and shake firmly. Strain into a highball glass over ice. Top with soda water to taste.
The Mocktail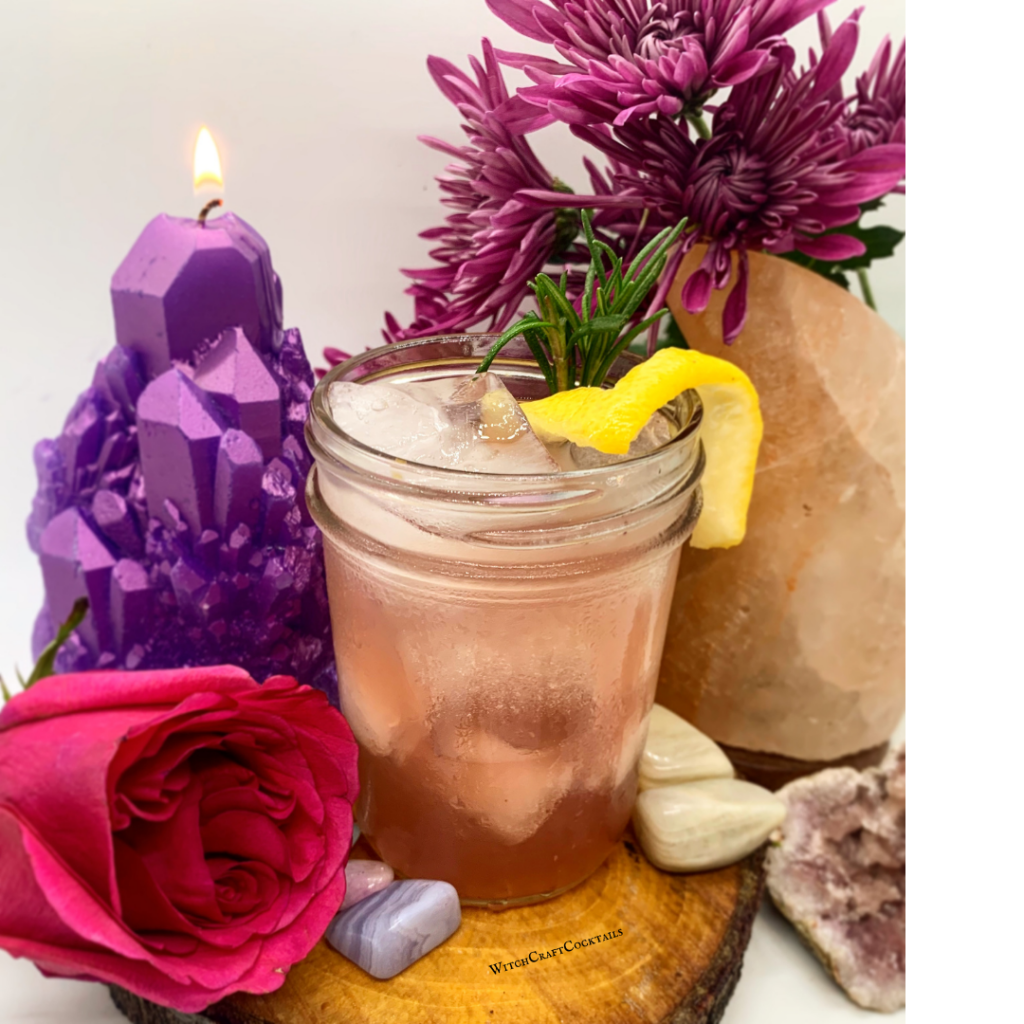 Just as delicious as the cocktail version, this moon mocktail is a lovely libation for these lunar energies.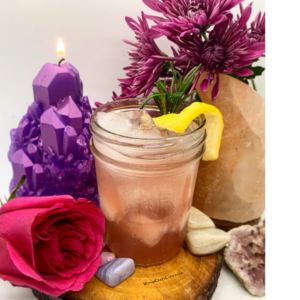 Libra New Moon Mocktail
A luscious, balancing apple mocktail for imbibing the Libra Lunar energies of love, balance, peace, and wisdom.
Ingredients
1

sprig

rosemary

4

grapes

(I used Moon Drop Grapes)

1/2

ounce

Libra new moon simsple syrup

(see below, or use simple syrup of choice (1:1 ratio sugar to water))

3/4

ounce

lemon

1-1.5

ounces

apple juice
Instructions
Firmly muddle rosemary and grapes in syrup, in the bottom of a cocktail shaker. Add in lemon and apple juice, ice, then shake and strain into a glass over ice. Enjoy!
The Syrup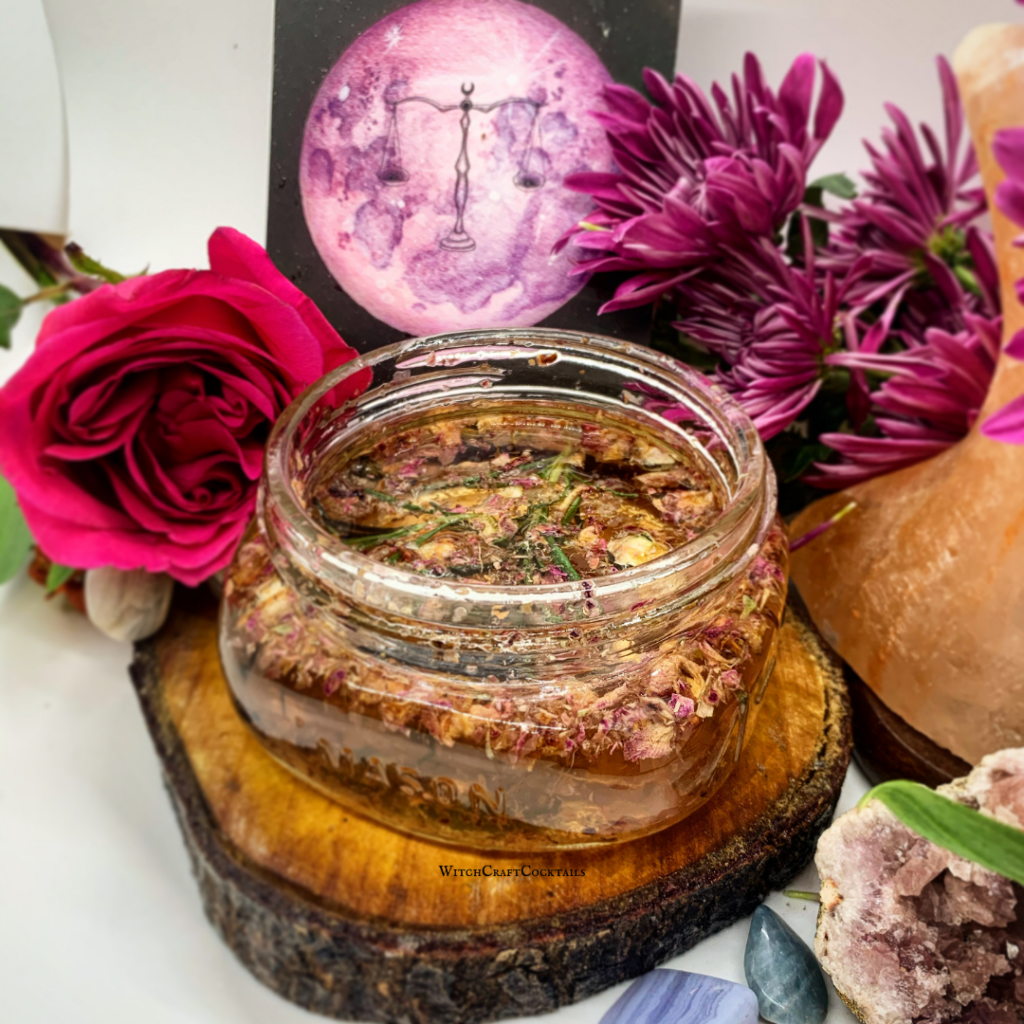 Luna in Libra Simple Syrup
Energetic Alignment: Love, Peace, Psychic Abilities
Libra asks us to reflect on our aesthetic, on love and self care, on our relationships – with others, ourselves, and the world. How can you live in better alignment at this time? What passions and projects of your deserve more attention at this time?
This syrup combines the lunar and libra associations, for peace, love, and psychic abilities through the use of Vanilla, rosemary, and rose. This powerful trio of ingredients will render this syrup a powerful addition to your Luna in Libra concoctions for insight, calm, and balance, even possibly make a just as wonderful dessert topping or even in coffee or iced tea! (Can you imagine the vanilla and rose atop a lovely strawberry fruit salad? Yes please!).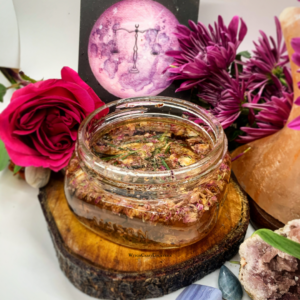 Luna in Libra Simple Syrup
Call down the energies of the Moon in Libra for love, peace, and divination with this rose, rosemary, and vanilla simple cocktail syrup.
Ingredients
1

tbsp

dried rose petals

1

sprig

rosemary

1/4-1/2

inch

vanilla bean

1/2

cup

hot water

1/2

cup

sugar
Instructions
Set water to boil. Meanwhile, collect your ingredients in an appropriate mason jar. Spend a moment breathing in the powerful aromas and energies of these ingredients. Pour the hot water over the ingredients, steep for 5 minutes, then add in sugar. Stir and let cool. Refrigerate over night if possible, to give vanilla and rose extra time to infuse. Otherwise, strain before use. Refrigerate and use for up to about 3 weeks.
Magical Additions
As a crystal healing practitioner, I can't help myself when it comes to crystals and working with energy! Here are some crystals/stones I recommend for further utilizing the Libra sun energies described in this blog. To layer on the energetic & magical frequencies, you can meditate with your given crystal, keep it on you as make and/or sip the drink, as well as attune the crystal to the drink by visualizing both the drink and crystal resonating together with your intention, as you hold the crystal against the outside of the glass. (Don't put your crystal in any of the cocktail components unless you know for sure it is not toxic). Here are their energies and why I suggest them (as it relates to the Libra New Moon).
Jade is a powerful healer, often used to increase the speed of the healing process. Associated with the heart chakra, it helps to open one to life's abundance and transmute any blockages to prosperity. Wear for good luck, to balance your energies, or to aid in any healing. Particularly for this New Moon, Jade would be a wonderful choice to bring harmony and balance into various areas of your life: health/wellbeing, energy, prosperity, and relationships
Lapis Lazuli (Third Eye & Throat Chakras) is a great ally for psychic development and clear communication. This stone will help you access other realms and communicate with your guides. Lapis is a great stone for journeying for this reason, and can also be used to journey within oneself to uncover and heal karmic cycles. Especially amidst the mercury retrograde energies, this stone can help promote communication, internal alignment and balance, and calm.
Pink Calcite (Heart Chakra) connects to Divine Love and helps to activate the heart chakra, to clear blockages with emotional expression. Pink Calcite inspires wholeness and empathy, and will help provide emotional support as patterns are cleared away.
For other stones that may be good to work with for this time, check out the Libra in Love blog. There, I talk about amethyst, pink common opal, and kunzite that will also make wonderful choice for crystalline energy additions to your lunar workings.
Ingredient Alignment
Magical correspondences of ingredients, as they align to this lunar occasion!
Apple (Venus, Water) – Love, Healing, Longevity, Fertility, Wisdom, Magic
Grape (Moon, Water) – Fertility, Garden Magic, Mental Powers, Money
Lemon (Moon, Water) – Longevity, Purification, Love, Friendship, Joy
Orange (Sun, Fire) – Love, Divination, Luck, Money, beauty (internal, unless blossom), Purification
Rose (Venus, Water) – Love, Psychic Powers, Healing, Love, Divination, Luck, Protection
Rosemary (Sun, Mercury, Moon) – Protection, Love, Lust, Mental Powers, Purification, Healing, Sleep, Youth
Vanilla (Venus, Water) – Love, Sexuality, Energy, Mind, Peace, Money
Works Cited
Here are the resources I used to help guide my work beyond what I already know! I highly recommend these reference tests 🙂
Disclaimer: In order to support in my work bringing you this information each week, on occasion I may earn a small commission from endorsements, recommendations, or links to any products from this website. These are links to actual products and resources I use and suggest.
Disclaimer: The content on this website is intended for fun and informational purposes only. It is not intended as, nor should it be, considered a substitute for professional medical advice, suggestions, diagnosis, or treatment of any kind. The statements made here have not been approved by the Food and Drug Administration. The information on this website is to be used at your own risk based on your own judgement. You assume full responsibility and liability for your own actions.