Libations of Lammas / Lughnasadh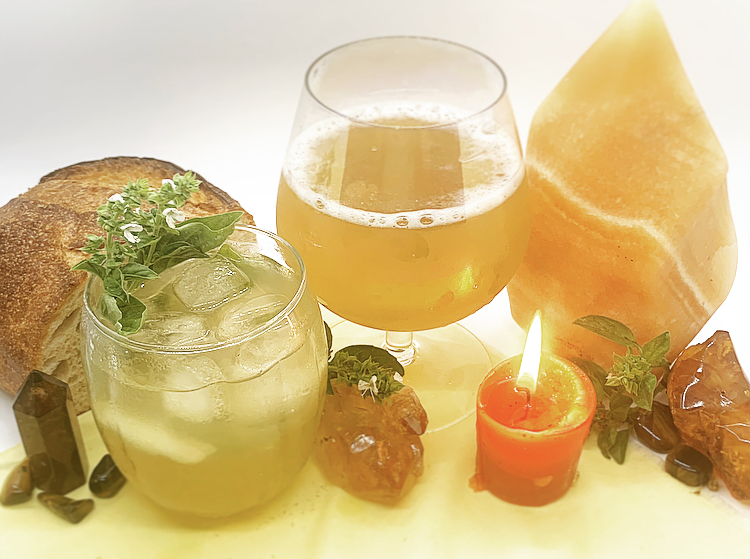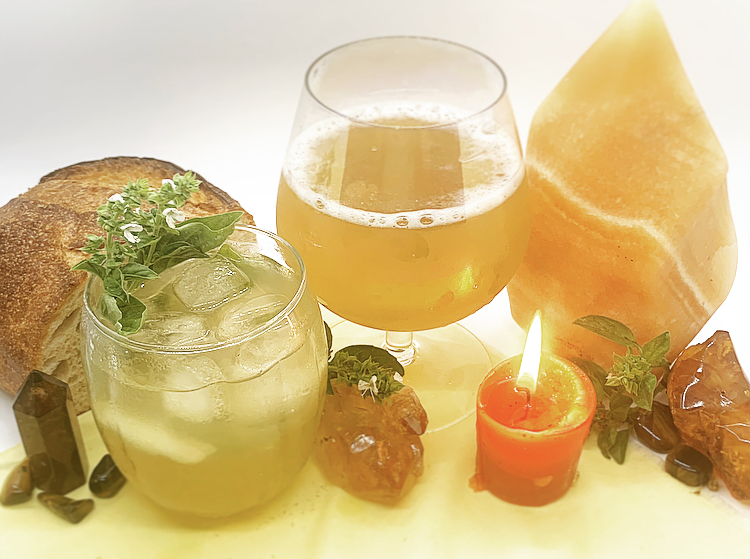 The Syrup
Chamomile-Orange Syrup
Magical Alignment: Purification, Money, Love, Creativity
This zesty, inspiring syrup combines the powers of orange & chamomile, to purify and boost your creativity & abundance potency. The flavors of orange oil, and calming chamomile create an sweet & enticing syrup to add to your Lammas recipes for clearing out the old, and bringing in the harvest abundance. To see a tutorial of how to make this syrup, check it out on Instagram or Youtube.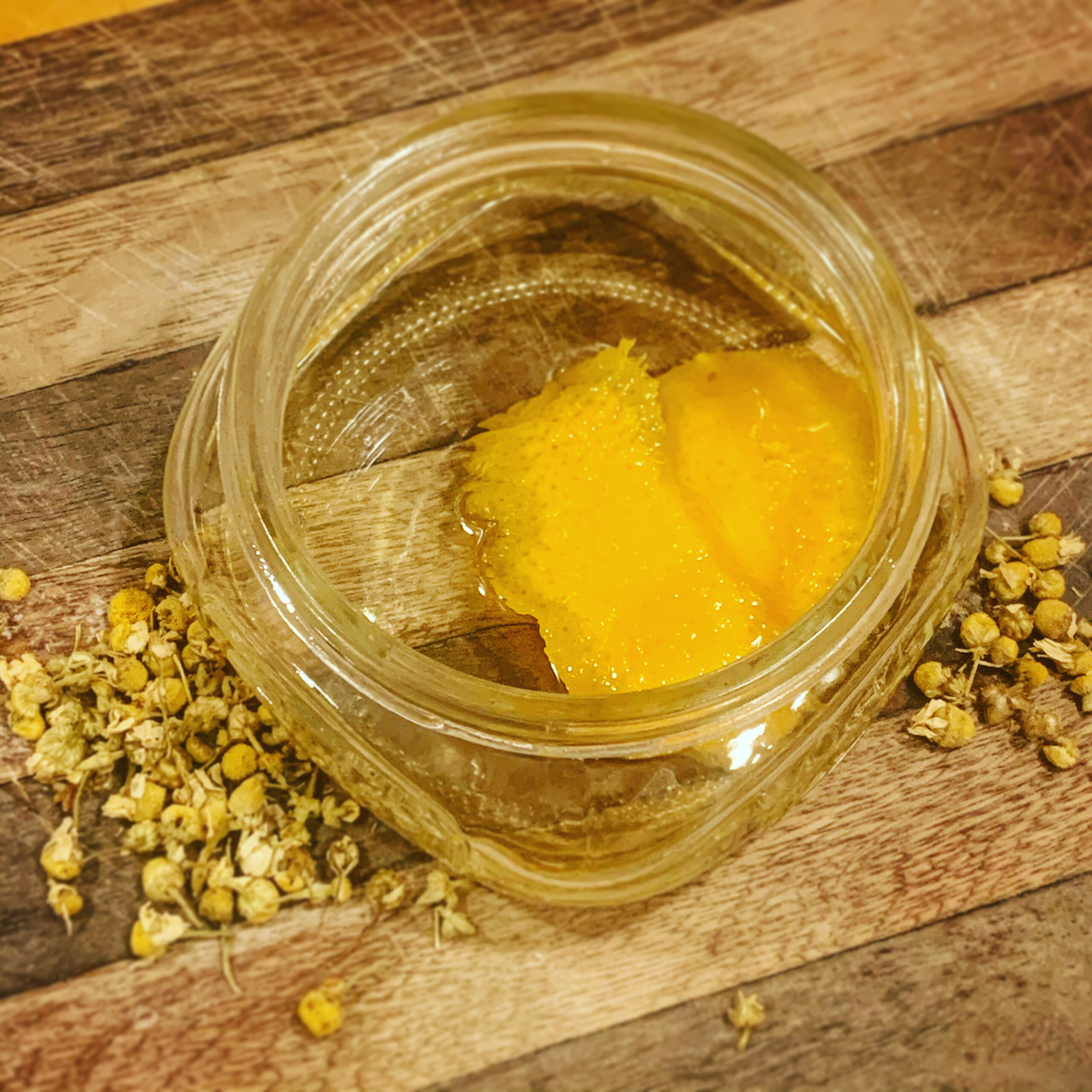 Ingredients:
2 x 1-2 inch slices of orange peel
1 chamomile tea bag or 1/2 tablespoon dried chamomile flowers
1/2 cup hot water
1/2 cup sugar
Instructions: Place orange peel slices & chamomile in a mason jar. Spend a moment connecting to the energy of the ingredients. Pour boiling water over the ingredients, and allow it to steep for 5 minutes. Add sugar, stir, and let cool. Strain and use right away, or allow to infuse for an extra 24 hours. Store in your refrigerator for 3-4 weeks.
Other syrups I might consider for Lammas: honey syrup, Blackberry/Sage syrup, maybe something with apple or basil, or maybe lavender.
Old Fashioned
Grounding, Wisdom, Creativity, Harvest
On a day that celebrates the grain harvest, there is no mixology match better than an Old Fashioned. Using bourbon (grains, 52+% corn mash, aged in wooden barrels) as the base, angostura bitters (a proprietary blend of 47+ herbs and ingredients), Orange, and simple or honey syrup (bonus points if its a magical syrup), Old Fashioned's are packed with harvest associations! And they can be simple to make, and packed with magic! You can often add on 1/2 oz of liqueur if your choice. Here is a nutty, grounding Old Fashioned I'm making for this Lammas, for wisdom, grounding, & creativity! For a tutorial on how to make this, check it out on instagram or YouTube.
Ingredients:
1-2 peels orange (sun, fire, creativity, luck, abundance, purification, healing)
 1/4-1/2 oz simple or honey syrup (I used my chamomile-orange Lammas syrup for creativity, abundance, & purification)
2-3 dashes angostura or black walnut butters (wisdom, grounding, protection)
1.5-2 oz bourbon (harvest, protection, grounding, karmic healing)
Optional: 1/4-1/2 oz liqueur of choice (I used hazelnut liqueur for creativity, wishes, luck, & protection)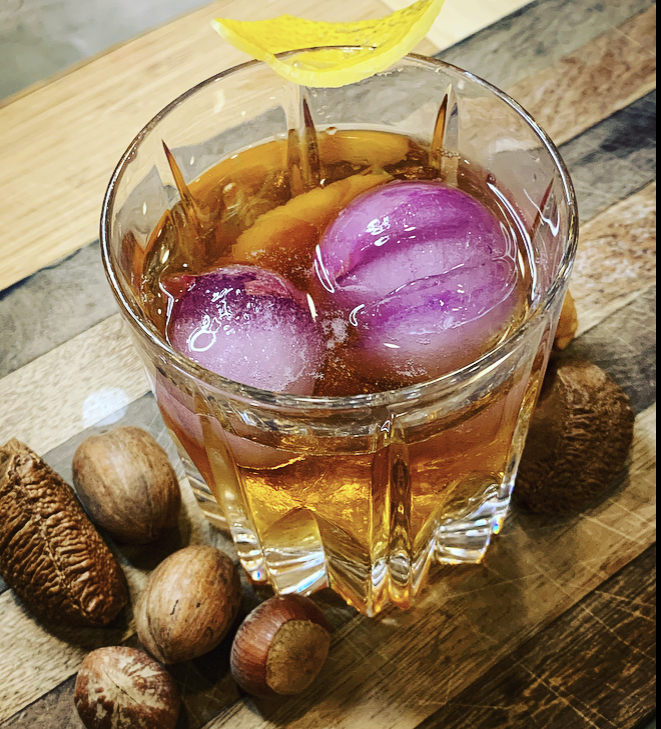 Instructions: In a bucket or old fashioned glass, add 1 orange peel, syrup of choice, and bitters. Muddle these ingredients together, tuning into the aligned vibrations, an envisioning your goal or the energy you seek to connect with. Add your ice cube(s), then pour in bourbon and any additional liqueurs you wish to add. Garnish with a smokey orange peel.
Beer Cocktail

With its grain base, beer is an easy & simple concoction to imbibe for the harvest energies of abundance, purification, ancestry, & grounding. But you can also use this in a cocktail. YES – a beer cocktail.

If you are looking for some magical mixed beverages to inspire the more transformative energies of Lammas/Lughnasadh, so you can go forward to harvest even more on the next two harvests, then this beer cocktail is for YOU! Immediately after a single sip of this concoction, I noticed I was more centered and felt a personal power and strength ringing through my body. Plus, it celebrates the harvest flavors (beer for grain harvest, apple to celebrate start of apple season), to bring in success & abundance! This delicious, slightly spicy, but nuanced beer cocktail will inspire an influx of energy, for purification, and motivation. For a tutorial, check out my instagram or YouTube.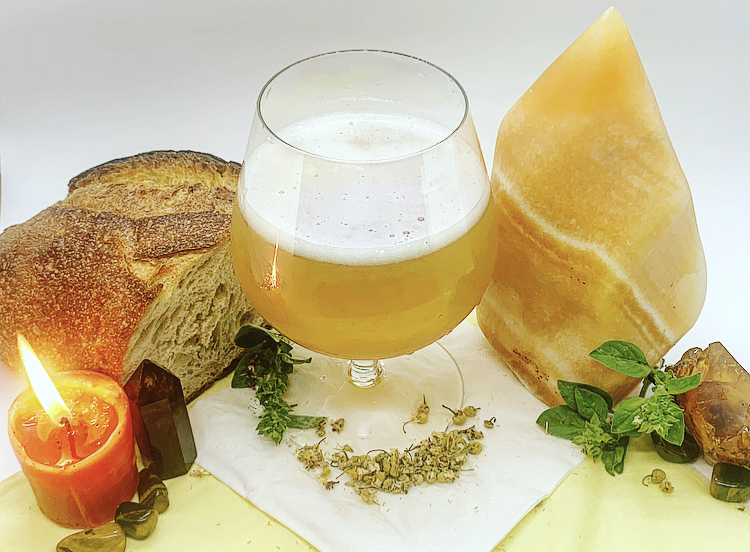 Ingredients:
1 thin ginger coin (money, success, power, healing, cleansing/purification)
1/2 oz chamomile-orange syrup (creativity, purification, abundance)
1 oz lemon (purification, longevity, friendship, fidelity, love)
1 oz apple brandy (love, fertility, healing, wisdom, divination)
3-4.5 oz beer (I used Belgium white/wheat beer, but you can use ale) – harvest, abundance, purification
Optional 1/2 oz bourbon (too add more flavor depth, +  ancestry, karmic patterns, & grounding/wisdom)
Instructions: Place ginger in the bottom of your cocktail shaker. Add your chamomile-orange syrup, or simple syrup. Muddle the ginger, visualizing its purification and energizing potency activating and intermingling with abundant & creative syrup. Connect with what your intentions are for the cocktail, and what energies you want to activate as the ingredients are infusing together. Add in lemon and apple brandy (and bourbon, if desired), ice. Shake, then strain into a beer tulip. Pour in beer on top, and adorn your cocktail with an orange or lemon peel, or a lemon wheel with a few pieces of chamomile adrift on it. 
Works Cited
Cunningham, Scott. Cunningham's Encyclopedia of Wicca in the Kitchen. Llewellyn Publications, 1990.
Cunningham, Scott. Cunningham's Encyclopedia of Magical Herbs. Llewellyn Publications, 1985.
Kynes, Sandra. Llewellyn's Complete Book of Correspondences: A Comprehensive Cross-Referenced Resource for Pagans & Wiccans. Llewellyn, 2013.
Kynes, Sandra. Plant Magic: A Year of Green Wisdom for Pagans & Wiccans. Llewellyn Publications, 2017.
Disclosure: In order to support in my work bringing you this information each week, on occasion I may earn a small commission from endorsements, recommendations, or links to any products from this website. These are links to actual products and resources I use and suggest.
Disclaimer: The content on this website is intended for fun and informational purposes only. It is not intended as, nor should it be, considered a substitute for professional medical advice, suggestions, diagnosis, or treatment of any kind. The statements made here have not been approved by the Food and Drug Administration. The information on this website is to be used at your own risk based on your own judgement. You assume full responsibility and liability for your own actions.