"Communication Breakdown": A Blue Lagoon Variation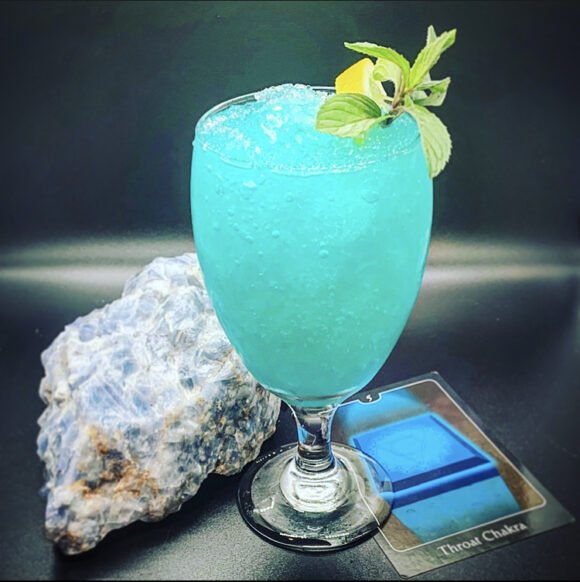 A time when communication and technology run amuck, Mercury Retrograde has grown in infamy in recent years. But don't worry – this throat chakra-inspired Blue Lagoon variation, packed with clearing and calming sage, soothing peppermint, and communication-enhancing chamomile, is the perfect inspired beverage to keep you cool, calm, and collected in any heat. 
For Simple, Easy Sipping: Cocktail making can be easy! Just swap ingredients or remove as you see fit. Use the material here & the ingredient reference list towards the bottom to help guide you in your own unique concoction, and get creative in swapping ingredients you may not have. I'll offer suggestions along the way, so don't get daunted if you don't have something! Just as in life, there are limitless possibilities.
The Cocktail
Energetic Alignment: Communication, Purification, Friendship
With its enticing hue and balanced taste, this modified blue lagoon cocktail is just the summer beverage needed to smooth the ride of mercury retrograde. Mercury- and Venus-aligned elderflower helps inspire loving communication, healing, and cleansing, while the addition of fresh, opening mint has long been associated with cleansing and invoking mental acuity and expression. And of course, the key ingredient responsible for the lovely color, Blue Curacao, inspires the loving and spiritual vibrations of the orange citrus. Add in some critical citrus juice and the syrup above, and you have delicious cocktail inspired by clear communication and self-expression. Served over chilling crushed ice, and the magical energies of mint, sage, elder and more, this refreshing libation is packed with throat chakra herbal potency.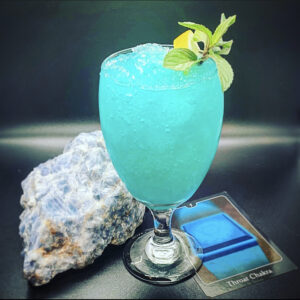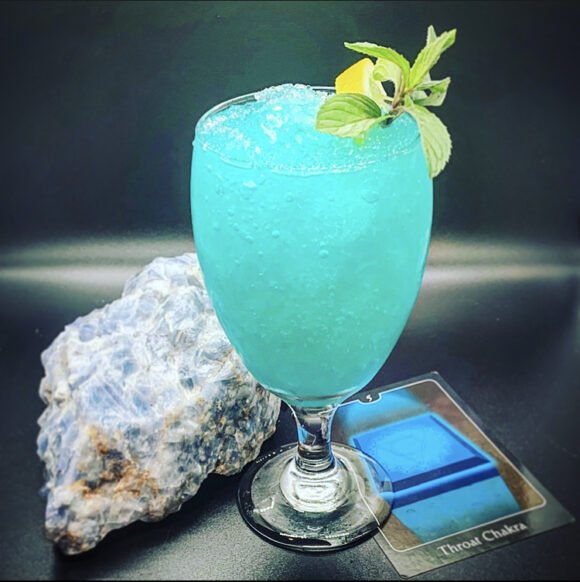 Communication Breakdown – A Blue Lagoon Variation for Calming Communication & Purification
A balanced, extra-refreshing blue lagoon variation, enhanced with elderflower, sage, peppermint, and mint, for calming, clear communication, & purification.
Ingredients
7

leaves

mint

1/2

ounce

Calming Communication Syrup

(see below)

1.5

ounces

fresh lemon juice

1/4

ounce

blue curacao

1/4

ounce

elderflower liqueur

1

ounce

vodka or gin

crush ice

(to serve)
Instructions
In a shaker, place mint leaves, syrup, lemon juice, vodka, blue curaçao, and elder flower liqueur. Add ice and shake firmly, so that the mint broken up, and the flavor thereby enhanced. (You can also slap the mint before putting it in the cocktail, to express and awaken the oils). As you shake, visualize any communication blockages breaking away. Then strain the cocktail into a hurricane glass over crushed ice. Adorn with lemon slice and mint sprig.
The Syrup
Energetic Inspiration: Communication, Healing, Purification
A simple, yet communication-potent tea-infused syrup. Packed with the herbal goodness of sage, peppermint, and chamomile, this calming, minty, & magically-aligned communication syrup is at the heart of this cocktail. (In fact, if you are going for a delicious mocktail, simply add this syrup to lemonade and add blue food coloring for that throat-chakra umph). Jupiter-associated Sage often invites purification, wise words, and healing, while peppermint has long been known to help soothe sore throats. Add in calming chamomile, and you have a syrup aligned for cool communication, purification, and balance, that you can add to this cocktail, to iced tea, lemonade, or even as a sweetener to your favorite tea!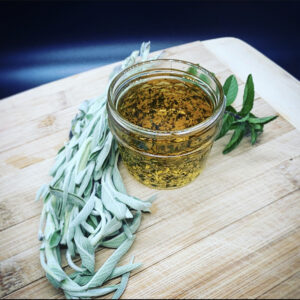 Calming Communication Syrup
A simple yet potent cocktail syrup, packed with sage, peppermint, and chamomile for calming & communication.
Ingredients
1

tea bag

chamomile

(or 1-ish tablespoon dried chamomile)

1/2

tablespoon

dried peppermint

(or use a peppermint tea bag)

5-7

leaves

medium-small sage

1/2

cup

sugar

1/2

cup

hot water
Instructions
Set water to boil. Place tea, sage, and dried peppermint in a mason jar. Take a second to pray over the herbs (for magical intention setting), imagining their energy opening up, as though a light growing is inside of them. When you feel an energetic buzzing, withdraw your hands, and pour now-ready hot water over the herbs. Let the herbs steep for about 5 minutes, covering the jar slightly. Then stir in sugar, cover the jar, and place in the fridge to help cool down. The syrup is ready to use once cooled, or you can let it sit for 24 hours for extra infusion. Strain before use.
Magical Enhancement
Whether you are looking to promote communication, self-expression, or smooth over communications during Mercury Retrograde, here are some of my favorite potent crystals to work with!
Amazonite: Connecting the heart and the throat chakra, Amazonite promotes clear communication of one's feelings. It is particularly useful in communicating one's personal truth to set clear boundaries. This will be a great energetic companion for this drink, for someone who's voice and feelings tends to be "run over" by others.
Angelite: Angelite, like the name may suggest, is a wonderful stone for communicating with angels and imbuing a calming frequency (which will be GREAT for mercury retrograde). However, it is particularly useful for communicating gently, with diplomacy. 
Blue Lace Agate: Associated with the throat chakra, blue lace agate is a powerful communication stone. Tuning you into your higherself, this stone will help you not only keep calm and relaxed, but also communicate with mental clarity amidst the communicative chaos and emotions that may arise at this time.
To work with the crystal energy, intention is always key! You can hold the crystal, and visualize a blue light (like the color of this drink!) expanding and growing stronger in your throat, vibrating with the crystal. If you are laying down, you can lay the crystal right on your throat, or simply hold the crystal in your left hand a few minutes each day with the intention of enhancing calm, truthful communication and diplomacy.
Works Cited
Here are the resources I used to help guide my work beyond what I already know! I highly recommend these reference tests 🙂
Disclaimer: In order to support in my work bringing you this information each week, on occasion I may earn a small commission from endorsements, recommendations, or links to any products from this website. These are links to actual products and resources I use and suggest.
Kynes, Sandra. Llewellyn's Complete Book of Correspondences: A Comprehensive Cross-Referenced Resource for Pagans & Wiccans. Llewellyn, 2013.
Kynes, Sandra. Plant Magic: A Year of Green Wisdom for Pagans & Wiccans. Llewellyn Publications, 2017.
Morrison, Dorothy. Everyday Moon Magic: Spells & Rituals for Abundant Living. Llewellyn Publications, 2009.
Regan, Gary. The Bartender's Bible: 1001 Mixed Drinks and Everything You Need to Know to Set up Your Bar. HarperCollins, 1991.
Disclaimer: The content on this website is intended for fun and informational purposes only. It is not intended as, nor should it be, considered a substitute for professional medical advice, suggestions, diagnosis, or treatment of any kind. The statements made here have not been approved by the Food and Drug Administration. The information on this website is to be used at your own risk based on your own judgement. You assume full responsibility and liability for your own actions.